Murrelektronik views power management as the starting point for machine efficiency.
Power conditioning, properly sized power supplies, current monitoring, redundancy and energy savings are all considered when we assemble a solution for our partners.
The combined technologies offered by Murrelektronik help you to achieve a solution tailored to your application, your budget and your peace of mind.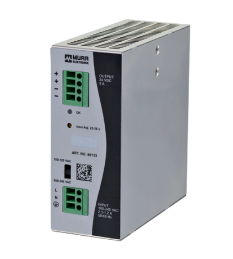 Eco Rail 2
Eco-Rail-2 power supply units offer manufacturers of machinery and control cabinets the possibility to supply power to their consumers flexibly and economically. These units provide basic functionality and help to monitor the overall costs in the control cabinet.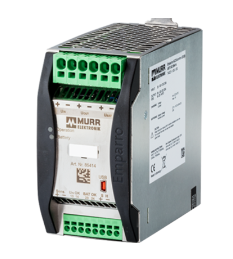 Emparro Accu Control
External lead batteries with a capacity of up to 40 Ah ensure a long-lasting bridging period. The UPS module is available for 20 A or 40 A systems. Emparro ACCUcontrol can be assembled without the use of tools and is maintenance free. Because it is only 65mm wide, the 20A model needs very little space in the control cabinet.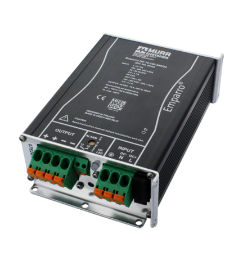 Emparro HD Heavy Duty
The preferred application areas for Emparro HD are areas in which power supply units may be installed in a control cabinet, but are still exposed to a variety of external influences, for example on spreaders (lifting equipment for moving containers), construction cranes, and systems of internal conveyor technology. The power supply units are often found on movable parts and are exposed to high induction voltages or weather elements, like extreme temperatures and high air humidity.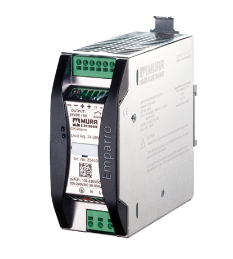 Emparro
Murrelektronik's Emparro switch mode power supply units' efficiency rate of up to 95% is impressive! This reduces power loss to a minimum and the low energy consumption helps save a lot of money.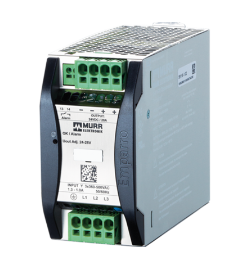 Emparro® 3~
Emparro 3-phase power supplies for 24V applications are important components in quality power management systems. These units are not only extremely reliable but also extraordinarily efficient as a result of their integrated reserved power. However, they don't require much space in the cabinet.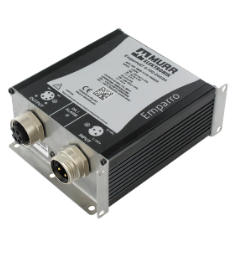 Emparro67
Emparro67 power supply units are designed for applications in the field. They are durable enough to withstand even the most extreme environmental conditions. Emparro67 significantly reduces power loss and lowers energy costs because they can be installed directly next to the load where the conversion from 230 V AC to 24 V DC takes place. Another benefit is that you can use smaller control cabinets.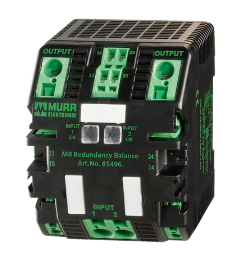 MB Redundancy Balance
Power supply systems are often redundantly designed with two power supply units in order to achieve the highest machine run time. Murrelektronik's active redundancy module, MB Redundancy Balance, decouples two independent power supply units and generates a redundant 24 V DC control voltage.